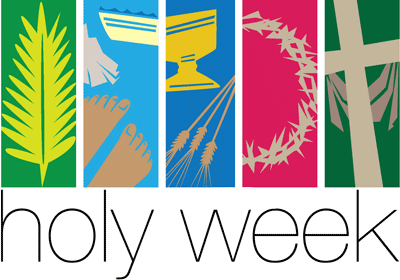 Holy Week is the week preceding Easter and the final week of Lent. Holy Week begins with Palm Sunday and ends with Holy Saturday, the day  before Easter Sunday. Holy Week includes Holy Thursday (also known as Maundy Thursday) and Good Friday, which, together with Holy Saturday, are known as the Triduum or the Three Great Days. During Holy Week, Christians commemorate the last days of Jesus' earthly ministry, leading up to His death and Passion on Good Friday, in payment for the sins of mankind; and His Resurrection on Easter Sunday which gives new life to all who believe. Therefore, while Holy Week is solemn and sorrowful, it also anticipates the joy of Easter through the recognition of God's grace and goodness in sending His Son to die for our salvation.
Monday, Tuesday, Wednesday & Friday in Holy Week ~ 7:00 PM – Compline (on Zoom)
Compline, Night Prayer, or the Prayers at the End of the Day, is the final church service (or office) of the day in Anglican and Roman Catholic   tradition. The English word is derived from the Latin "completorium," as the praying of compline marks the completion of the waking day. Join us on Zoom for this brief time of worship as we continue to journey  with Jesus to the cross.
Zoom Link:
https://us02web.zoom.us/j/84031254007?pwd=VjlRSXJIcmNtVGpUUi9aRjV5UCtpdz09
Meeting ID: 840 3125 4007
Passcode: 236034
Maundy Thursday ~ Thursday, April 14, 2022 ~7:00 PM – Maundy Thursday Liturgy  (in person & livestream)
This service celebrates not only the institution of the Lord's Supper, but also our baptismal call to serve each other, just as Jesus served,            symbolized by the washing of feet. The word "maundy" is derived from the Latin "mandatum" or "mandate," referring to Jesus' words: "A new commandment I give to you, that you love one another, as I have loved you."
Good Friday ~ Friday, April 15, 2022 ~ 11:00 AM – Good Friday Liturgy (in person & livestream)
In this observance of Jesus' Passion, we celebrate our baptismal call to join in the suffering and death of Christ, as our only path to salvation. In     meditating on Jesus' Cross, we affirm our belief that through His death and   resurrection, we find eternal life.
Personal Meditations on the Stations of the Cross (downloaded file)
The stations of the cross are a traditional devotion of Catholics and       Anglicans, recently rediscovered by Christians of all stripes, in which we walk the way of the cross (Via Crucis) or the way of sorrow (Via Dolorosa) with Jesus, pausing to be still, pray, and meditate on the way.
Download here:  Stations of the cross
Holy Saturday ~ Saturday, April 16, 2022 ~ "In Silence We Wait"
Personal Prayer Retreat in your own home (booklet at Welcome Table)
Download here:  Holy Saturday Retreat 2022
Easter Sunday: Day of the Resurrection ~ Sunday, April 17, 2022 ~ 10:00 AM – Holy Baptism & Communion (in person & on-line)
The Resurrection of Jesus, the Lord of all love and all life, is the center of our faith. Because Jesus is alive, we find new life in Him. This life-changing event–the turning point of human history–will be celebrated with great joy and praise; "Alleluia, Christ is Risen–the Lord is Risen    indeed, Alleluia!"