"Yea, though I walk through the valley of the shadow of death, I will fear no evil: for thou art with me; thy rod and thy staff they comfort me."   (Psalm 23:4)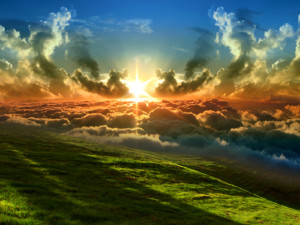 Death is never easy to deal with – especially when it claims the life of someone we love – so suddenly and unexpectedly. When this happens, it often produces in us a variety of conflicting emotions, and raises countless questions. In our struggle to understand and to make sense of a seemingly senseless situation, we cry out for answers – sometimes to God; sometimes to ourselves, a family member, or friend; and sometimes into the void. However, we can wrestle with our questions – with the 'why's, 'how's,' and 'what if's' – for an eternity, and still not come up with any answers. We all know the frustration of this, as well as the frustration caused by lack of closure – of words not spoken and times not shared. Unfortunately, there are many things in life that we can't understand. This is where faith comes in. Faith can be defined in many different ways; however, Hebrews 11:1  puts it very simply; "Now faith is the assurance of things hoped for, the conviction of things not seen." Faith is the belief in something – or as I prefer, someone beyond ourselves. Someone who understands, even when we don't understand –someone we can lean on when we are unable to stand on our own; someone who cries our tears; someone who holds out the promise of a brighter and better day, in the midst of our darkness and loss. This someone is Jesus. However, as the object of our faith, Jesus can't protect us from suffering and loss, nor can He keep our hearts from experiencing pain, grief, anger, or regret – these are all unavoidable realities of our human existence. However, Jesus can and does speak to us in these moments, offering us a message of comfort and hope.  As Psalm 121 tells us; "I lift up my eyes to the hills; from where will my help come? My help comes from the Lord, who made heaven and earth." In times of trial and challenge – in times of grief and loss – we are called to lift our eyes to God – for He is our help; our hope, and our strength.
It is our desire at Living Waters to help you do this in anyway we can. Funerals are one important way for us to honour our beloved and say goodbye, under the shelter of God's care and His promise to be faithful to us in death. Our Lead Pastor and Rector, the Rev. Christopher Doering is available to perform Christian funerals, memorial and grave side services and is also available for grief counseling. To arrange for these services, please contact him at 613-453-9140.  Since we do not have our own church building, funerals and memorial services at Living Waters will be held in the chapel  in one of the Kingston funeral homes or in a church of another denomination. 
We also offer funeral pre-planning. This can be done well in advance of anticipated death or in the final weeks of life. Pre-planning provides the opportunity to assist family by clearly communicating preferences in music, Scripture readings, participation in the service, burial and reception. This is a simple gift that you can offer your family members, in the midst of their grief, so that they can have the comfort of knowing the service reflects your wishes and is a true celebration of your life. If you are interested in pre-planning your funeral, please email the Rev. Christopher Doering.